OM PRESENTS THE BEST LOCAL PERFORMERS  & GREAT MUSICAL TALENT FROM AROUND THE NORTHWEST
---
FRIDAY April 21st, 7PM                        
SKINNY TIE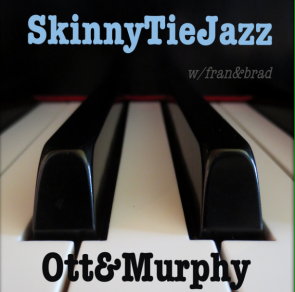 Skinny Tie Jazz plays jazz standards and not-so standards! Their tunes come mainly from the Great American Song Book, but also offer an eclectic 'gemisch' of rock & roll classics as well as some strange oddities to tickly your fancy.
NO COVER
RESERVATIONS recommended- 360-221-7131
Join us for an intimate evening of professional and tight jazz!
---
SATURDAY April 22nd, 7PM                        
JIM PAGE     $15

"The medieval troubadour's work consisted of entertainment and propaganda, praising the brave and ethical, mocking the hypocritical, teaching the uninformed, and maintaining the people's spirits during times of oppression.  Jim Page is a modern troubadour; his work is topical song-spinning with love, poignance, and reflection in his lyrics, and very, very fast guitar-picking.  He is in the American musical lineage of topical singer-songwriters  that includes Woody Guthrie  and Pete Seeger, Phil Ochs and Janis Ian, Bruce Springsteen and Frank Zappa."   –No Depression
To date. Jim's songs have been covered by The Doobie Brothers, Christy Moore, The Moving Hearts, Dick Gaughan, Roy Bailey, David Soul, Leftover Salmon, and Michael Hedges.  He has received awards from Artist Trust and Jack Straw Productions.  His music has been included on ,many compilations, including the Grammy Nominated "Best Of Broadside."
Call 360-221-7131 for RESERVATIONS
---
FRIDAY April 28th, 7PM                        
TRIO NOUVEAU

Trio Nouveau plays classic swing jazz from the Great American Songbook and music inspired by the great guitarists in history such as Joe Pass, Herb Ellis, Django Reinhardt, Wes Montgomery, Chet Atkins and Lenny Breau.
The lyrical conversation between the Trio Nouveau guitarists and their instruments is creative and amazing.
The innovation and improvisation they employ collectively represents years of guitar mastery inspired by the greats: Joe Pass,  Wes Montgomery, Herb Ellis & Lenny Breau, playing the Great American Songbook classics with creative improvisation and lyricism.
Highlighting the intricate interplay of three of Whidbey Island's premier guitarists, the Trio Nouveau spotlight Keith Bowers and Greg Beck accompanied by bassist Kristi O'Donnell. Troy Chapman, one of the founders of Trio Nouveau, joins us on occasion.
---
SATURDAY April 29th, 7PM                        
BEKAH ZACHRITZ & MELODIE AYRES   $9

---
FRIDAY May 5th, 7PM                        
KAREN KUNKEL  $5-10 Suggested

Unkel (Karen) Kunkel is a musical medium channeling multiple personae–Improvisational vocalist & singer of their original alternative folk-opera ranging from hypnotic story-songs to theatrical vocal pieces, accompanied simply via accordion, mandolin, or ukulele. Inspired by musical theater, princess-metal, ancient folk music, and classic ecstatic rock–their imagery bleeds from veins pastoral and religious, romantic and ancient, from fragmented dreamery to post-post-modern absurd visions of a nihilistic clown.
Join us as we welcome Karen for her debut performance on the OM stage!
Call 360-221-7131 for RESERVATIONS
---
 SATURDAY May 6th, 7PM                        
GREG BECK QUARTET   $7

With great enthusiasm, we welcome back one Greg Beck & Co.  These guys always put you in the right mood with classy jazzy guitar licks, steady basslines and groovy rhythms.  A perfect way to ignite the SPRING spirit!!
Call 360-221-7131 for RESERVATIONS
---
FRIDAY May 12th, 7PM                        
THE GINGER UPS   $8

The new original music of long-time partners and co-songwriters Jennifer Spector & Dave Tieman draws inspiration from their favorites… 50's jazz, 60's cocktail culture, 70's classic tunesmiths, 80's pop and 90's modern folk. They are crafting songs that are both fresh and timeless featuring David's exceptional musicianship on guitar/bass, Jennifer's emotive & beautifully unique vocals and their distinctive harmonies together.
---
 SATURDAY May 13th, 7PM                        
SHERI ROBERTS GREIMES    $7
Known as a soulful singer and powerhouse vocalist, Sheri Roberts Greimes is quickly becoming a favorite in the Northwest.  With a history that includes amazing musical events such as-  second place in the Wrangler Country Showdown at the Grande Ole Opry, where she took home $25,000 and a Dodge Ram Van, an opening performer in Las Vegas at The Flamingo, Golden Nugget, Las Vegas World, The Aladdin and more & a chart topper in the Reverbnation charts for both local and regional artist in Blues!  And just last month,  Sheri was awarded "Washington Blues Society Best of the Blues 2017 Blues Female Vocalist"!
If you have not heard Sheri's amazing skills, click here! 
Joins us as we welcome an incredible singer & performer for her debut performance at OM!
Call 360-221-7131 for RESERVATIONS
---
 FRIDAY May 19th, 7PM                        
AMIGOS NOBLES     CD RELEASE!   $12

This dynamic trio plays flamenco with a contemporary twist.    Enjoy an evening filled with the excitement that defines flamenco by a group whose music is tightly complex and compelling.  DAZZLING! Check out their music at www.amigosnobles.com
Jerry Wirkkala is a masterful guitarist who's been fusing nuevo flamenco, blues & jazz & has been performing around the Seattle area for a number of years.
Richard Ferguson has been a rock player for many years. After attending a Gipsy Kings concert Richard became inspired, purchased a classical guitar and began learning the Euro-Nuevo Flamenco style songs Jerry was playing.
Angelo Ortiz is a well-known , gifted percussionist, recently named Best Instrumentalist by the Washington Blues Society in 2016. Angelo has had multiple previous nominations for best percussionist and has appeared on the cover of "Big City Rhythm and Blues Magazine, a nationally published music trade magazine.
Join us for some awesome wine, cheese, dessert and more as we positively groove together!
CALL 360-221-7131 FOR RESERVATIONS
---
 SATURDAY May 20th, 7PM                        
THIRD ANNUAL BOB DAY w/ David Ossman & Co.

Join us for the 3rd Annual BOB DAY! David Ossman & Co. will present a melange of performance using poetry, story, song, and theatre. Events will be ongoing throughout the day, with the main event beginning at 7pm.
RESERVATIONS RECOMMENDED!  Call 360-221-7131
---
FRIDAY May 26th, 7PM                        
DESEO CARMIN  $10

DESEO CARMIN plays a sultry fusion of Latin/Flamenco/Funk music -"Spanish music with an edge". The band has been mostly performing in the Seattle area for the past 5 for years but their music has already transcended borders as far as Latin America where they currently receive radio play at radio stations in Paraguay and Chile. Throughout the years they have performed at several well-known venues and events such as World Rhythm and Folklife Festivals.
Their music has been featured in local radio stations as well as Seattle Channel and KCTS Channel 9's "Arts Zone".  They were selected as one of the featured performing artist in the Seattle.gov website and their music featured in "Seattle on Hold". They are proud to have been nominated for a music award in 2011 at the New Music Seminar Artists on the Verge (AOV) project which takes place in Los Angeles, CA. "AOV" identifies the 100 artists most ready to break each year and it's a great achievement for DESEO CARMIN to have been nominated to this exclusive list from millions of artists throughout the US.
RESERVATIONS RECOMMENDED!  Call 360-221-7131
---
 SATURDAY May 27th, 7PM                        
SIMON KAUFMAN & Co.

---
FRIDAY June 2nd, 7PM                        
ANDRE FERIANTE  $15

---
 SATURDAY June 3rd, 7PM                        
DMITRY MATHENY  $10